Regular price
$7.00 USD
Sale price
$6.00 USD
Unit price
per
Sale
Sold out
Description
Quinoa is one of the most nutritious foods on the planet. It is native to the Andes and was sacred to the Incas, who called it the "Mother of all grains" for its nutritional properties. INCA'S GOLD Organic Quinoa Flakes are 100% organic, non-GMO, gluten and cholesterol free, very low-glycemic index, twice washed and easy to cook and digest.
Quinoa Flakes carry all the nutritional benefits of Quinoa in a breakfast cereal form with a quicker cooking time. They are highly prized for their nutritional value, especially for their high protein content that provides all essential amino acids. They are a must-have for those following a gluten free, vegan or vegetarian diet.
Our Quinoa is farmed in Bolivia on the Andean Altiplano, in the small region surrounding the Salar de Uyuni salt flats. Because of this harsh climate, this Quinoa grows larger and retains more nutrients than other varieties. For this reason, it is known as Royal Quinoa and is widely praised as the best Quinoa in the world.
You can enjoy our Quinoa Flakes as a cereal (particularly alongside fruits or maple syrup) or a great addition to any baking recipe.
Cooking Instructions
Add 3 parts of water to 1 part of flakes.
Microwave: Cook on full power for 2 minutes, stir and repeat if needed.
Stove: Bring to a boil stirring frequently and simmer gently for 3-4 minutes.
Nutritional Information
Save
Save
Save
Save
Save
Save
Save
Save
Save
Save
Save
Save
Save
Save
Save
Save
Save
Save
Save
Save
Save
Save
Save
Save
Save
Save
Save
Save
Share
View full details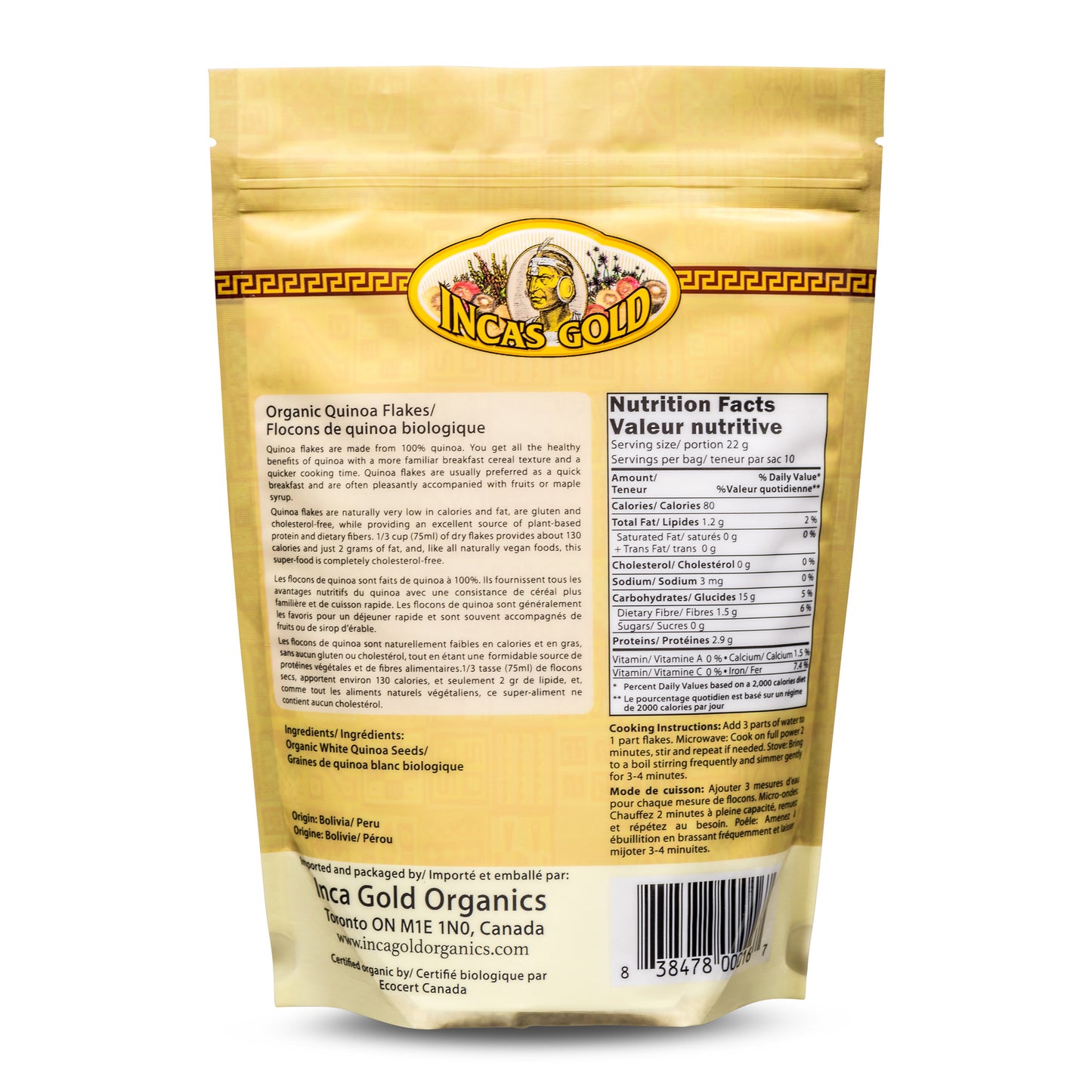 Exceptional Quality and Exquisite Craftsmanship
I recently had the pleasure of experiencing the incredible products offered by Inca's Gold. Their attention to detail and commitment to quality truly impressed me. The product I purchased, [insert product name], exceeded my expectations in every way.
From the moment I unwrapped the package, I could tell that this was a meticulously crafted item. The materials used were of the highest caliber, and the design showcased the skill and artistry of the artisans involved. The product felt substantial and durable, giving me confidence in its longevity.
The functionality of the product was outstanding. It performed flawlessly, delivering exceptional results with each use. The innovative features and thoughtful design elements enhanced my overall experience, making it a joy to use.
I appreciated the level of thoughtfulness that went into every aspect of the product. Every detail, from the packaging to the user manual, was carefully considered, ensuring a seamless and enjoyable experience for the customer.
I must also mention the prompt and efficient delivery of the product. It arrived in perfect condition and within the expected timeframe. The packaging was secure and protected the product during transit.
Overall, my experience with Inca's Gold and their product has been nothing short of exceptional. I highly recommend their products to anyone seeking top-notch quality and exquisite craftsmanship. This is a brand that truly understands its customers and delivers on its promises.